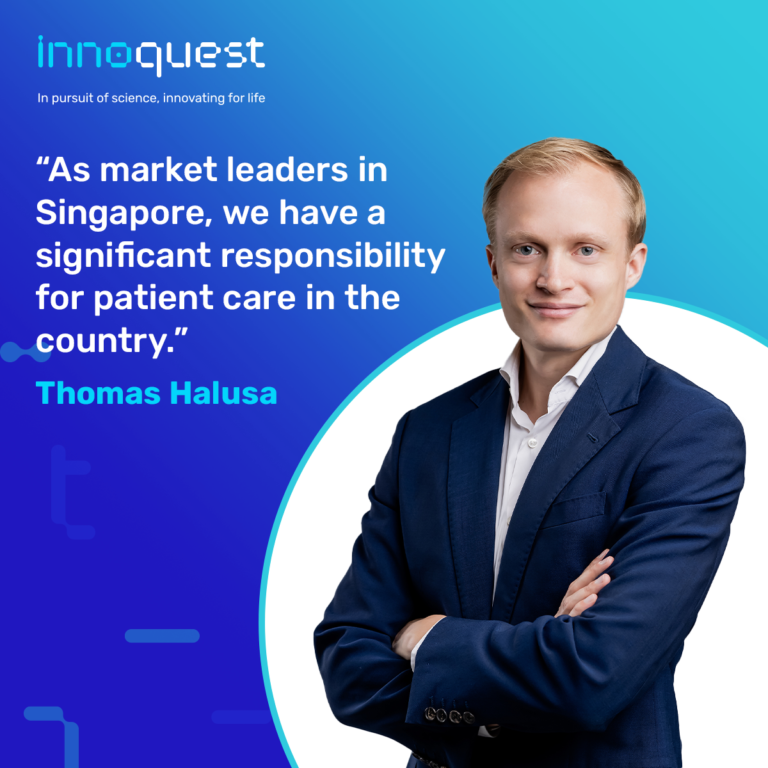 It has been a busy few years for Innoquest Singapore. Beyond providing advanced diagnostic
tests to clinicians, hospitals, medical centres and patients from seven facilities in Singapore,
Innoquest built five Covid-19 testing laboratories in Singapore and delivered a staggering 2.1
million Covid-19 test results to date.
Thomas Halusa, current CEO of Innoquest Diagnostics, had cut his teeth at Pathology Asia (the
lab's predecessor) helping to set up COVID labs from scratch. "This project was one of the most
challenging moments of my career so far," says Halusa. "But it made me committed to delivering
impactful and high-quality healthcare for all."
Focusing on quality healthcare
Innoquest's mission is "to transform healthcare and improve the human condition". To deliver on
this mission, Halusa believes that optimising efficiency and accessible healthcare for medical
practitioners and patients is key.
A large part of his vision for Innoquest entails technologically advanced solutions to digitalise and
automate operations. "With healthcare being a late adopter of technology, there is ample room to
work with our team and the industry to enhance the penetration of digitalisation," says Halusa,
adding that, "Digitalisation has the power to improve the healthcare experience for every
stakeholder involved."
As CEO, Halusa is also responsible for maintaining Innoquest's market leadership position in
Singapore, and ensuring that the quality of its services is met. "We have a significant
responsibility for the outcome of patient care in our country," he shares. "Our results are
paramount to clinicians when they make treatment decisions for their patients."
The importance of Innoquest's work in the bigger healthcare picture is something that keeps
Halusa inspired and motivated . "Seeing our platform effect positive change is my reason to get
out of bed every morning," he says.
Putting consumers and colleagues first
To effectively serve healthcare providers and patients, Innoquest has to first understand the
needs of its stakeholders. This is Halusa's primary focus on a day-to-day basis, which involves
engaging with vendors and customers to ensure that Innoquest's services are focused on
addressing their unique needs.
Besides liaising with stakeholders, Halusa believes in the importance of communication within
the organisation. He works closely with each of the departments within Innoquest to personally
understand their potential pain points and issues.
To Halusa, the most fulfilling part of his job is working with a variety of dynamic and enthusiastic
colleagues. "With every conversation I have, I learn something new and broaden my perspective
of our business or the environment we operate in," he shares. "Taking that learning and turning it
into action to improve the quality of our services is extremely satisfying."